I love running. Love it with a passion. But it's a difficult relationship that borders on the abusive and I usually end up getting hurt.
Photo: Triund and Moon Peak from McLeod Ganj, Himachal Pradesh © Martin Holland
On a day to day basis there are few things that are as exhilarating, life affirming, and mentally stimulating as running. Running gets me outdoors, into the fresh air, and often into some incredibly beautiful scenery (I especially love trail and xc running, but I'll road run when I have to). Better still, I feel 100 times more alive and awake when I'm running through beautiful scenery than when taking a leisurely walk through it. Running puts my senses on steroids and I end up feeling immersed in the landscape as I move through it. 
Tearing along the trails like a wild horse in the hills, rock hopping, stream jumping, and mud splashing like a young boy, pushing myself hard and testing my own limits…. running makes me feel like a hero. I love it!
What's even more cool is that the other areas of my life becomes more and more awesome when I'm running regularly: my mind is sharper, I'm more productive, I feel happier and more positive and optimistic and I'm nicer to people, and all that in turn creates the amazing positive feedback loop we all experience from time to time! Did I mention I love it?!
So to get me to run more one of my goals for 2014 is to run a marathon in under 3 and a half hours, and to finish a 10k in under 40 minutes. This is also part of a bigger challenge to run a marathon in under 3 hours (hence the reason this post is categorised Sub-3-Zero). In looking for races to enter close to my current base in Himachal Pradesh, northern India, I stumbled across something that looked too good a challenge to miss.
On May 2nd I'll be competing in the 3rd Himalayan XC Marathon organised by the guys at Running and Living. In short this means that I'll be taking a week out of my life to run 13 miles (21 km) up a mountain in the Indian Himalayas before turning around and running 13 miles back down again. The race starts at around 8,900ft (2,740m) and tops out at around 11,300ft (3,444m), with a total elevation gain of around 3,000ft (915m). I'll also be paying for the privilege!
Just as a point of reference for any UK readers, that's equivalent to running 26 miles while ascending from sea level to just below the summit of Snowdon, the highest mountain in Wales, before trudging back down to sea level again. My knees are going to take a serious pounding.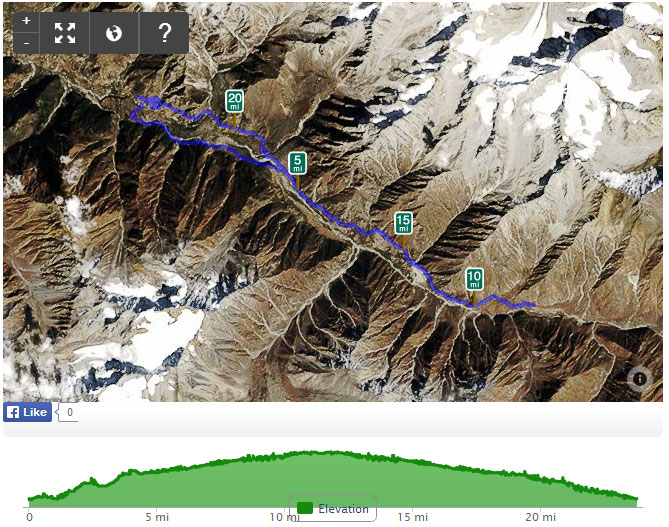 On top of that, while not exactly in the death zone, the air is noticeably thinner at this altitude making the going that much harder. Because of the altitude I'll be spending about a week in the area before the race to acclimatise with some easy walks and light runs, and a place in the 10k on the 30th April to help me get really warmed up.
And just to make matters even more interesting, I twisted my ankle badly a couple of weeks ago while navigating a flight of stairs in the dark on my way to the outside loo at the place I was staying (I booked my place on the marathon immediately after this accident, make of that what you will). I'm just about recovered from that, which means I'm doing my marathon training from a standing start with just 8 weeks to race day.
What do I mean by a standing start? I mean going from zero training to a total distance of 34 miles this week with my long Sunday run a whopping 18 miles. Not exactly textbook preparation!
And this is where the relationship can get abusive.
While I don't necessarily regret this, I have a tendency to do the things that make me feel awesome to excess (drinking, travelling, spending money). I also probably have a bit of a hero complex, and love to do things that might make me look as well as feel awesome.
The truth is, of course, that I am neither hero nor awesome. Sadly, no matter how much I know this to be true, my idiot brain doesn't seem to care what I think and pursues hero-dom and awesomeness relentlessly.
For example, the last time I attempted any serious running was a few years back when I hobbled round 6 of the toughest marathons in the UK in 6 months. I completed this ridiculous challenge a slightly more broken man than the one who had started (physically if not mentally) while the actual heroes who had trained hard and raced hard ran each marathon in record times and (probably) without a blog in sight.
But fuck it. I know what motivates me and I will happily use my weaknesses to my own advantage, and will hopefully provide some entertainment, inspiration or advice along the way.
As part of this Sub-3-Zero series I'll be writing about races, training, gear, technology, diet, technique, and all the resources I've found useful while researching these various topics. In the mean time, stay tuned via twitter for updates on my training for the Himalaya XC Marathon in May.
Enjoyed this? Subscribe to the newsletter…
Get cool stuff in your inbox once a month, and join a growing community of like-minded people seeking alternative ways to think, live and thrive. Oh, and no spam, ever. Pinky swear.