To celebrate my 21st Birthday I had decided to summit Mt Chimborazo. At 6,310m it was once thought to be the highest mountain in the world. Of course it isn't, but it's peak is the furthest point (on earth) from the centre of the earth.
So here's the story.
The acclimatization period, which I had believed would consist of 2 nights at 5000m, turned into a very expensive 2 nights at the tour operator's (a guy called Rodriguez) hostel, La Estacion Urbina, at 3618m. Beautiful though it is there, it is still only half the height of the summit and after my 2 week binge this was not what I needed, but I was assured that it was better not to have more than one night at 5000m because that can actually bring about altitude sickness. Very well then, so I settled for a single, solitary walk up to about 4200m as my training.
I want to emphasise, NO exercise in recent history, a 2 week monster binge leading up to this day, and my training to climb a 6310m mountain was a 4 hour walk with 400m height gain. Well a good friend once said to me, "it's not important whether you win or lose, just that you do it fantastically!"
So Sunday morning comes around at Urbina. I had been advised to get up a 5am in order to tire myself out because I would need to sleep between 5pm and 10pm that night before the climb. I'm going to leave that mess of logic up to you guys but after 4 hours of stoking a fire from 5am I reliased that I was actually going to be climbing Chimborazo that evening and suddenly all stoking ceased as I sat staring out the window towards a perfect, cloudless view of my doom.
10am came and finally Rodriguez wass driving me to Chimborazo via Riobamba for supplies and my guide, Raul. I conversed with Raul while waiting for Rodriguez to return, he asked me what experience I have with alpine climbing, what altitude I've climbed to, how fit I am….I replied "none, I once skied in Italy about 8 years ago – that was pretty high, ummm…no comment". I sensed the despair in his voice when he asked what training I've done so I did my best to glamourise the previous day's walk, his silent response did not exactly fill me with courage.
But it was a beautiful day and the usually overcast mountain sat regally on the horizon, adorned with foothills of jade, a crown of perfect white and accompanied by a few faithful, wafty advisors constantly whispering in its ear.
We slowly meandered upwards, losing sight of Chimborazo each time we passed the hills that bow before their King, and every time it came back into view it wass larger, grander, more impressive and more intimidating. Like playing peekaboo with a giant that is slowly creeping up on you until it's right there in front of and it hurts your neck to look up at it.
And so we eventually got into Chimborazo Park, the entrance of which is guarded by two poor guys living in a cargo container next to the road! We got to the first refuge at 4800m and then walked up to the Whymper refuge at 5000m. It was about 1pm now and I noted that my 2 days acclimatization has been reduced to something like 10 hours. But I felt fine, this was the highest I'd ever been but the altitude didn't seem to be affecting me.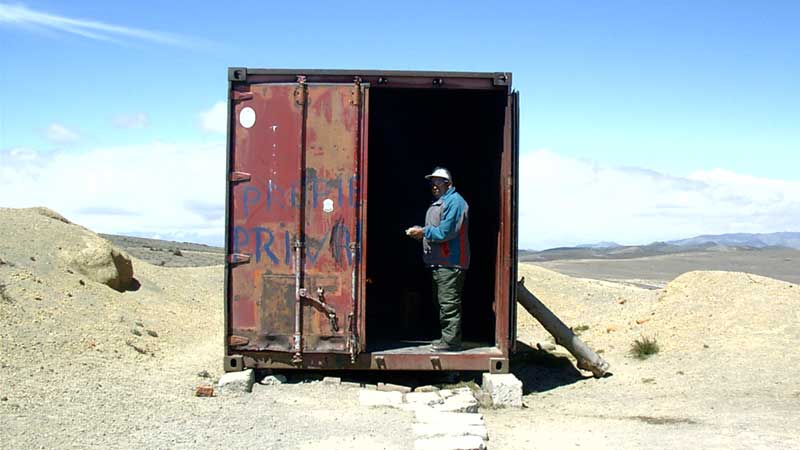 After a meal with my guide, a Swedish guy and his guide, I ran around outside taking photos of Chimborazo. It was still showing off; glowing a dusty red in dusk light as a full moon rose over its shoulder and I couldn't help but wonder why things always seem to work out for me like this. My shadow stretched out further and further towards the base of the mountain as the sun set behind me; I was humbled, anxious, excited, taken away from all of the mundane, meaningless aspects of our existence and transcended to that profound place which nature inspires in us all.
6pm came and the last thing I wanted to do is go to bed, but that's what I had to do, and so for 5 hours I lay wide awake contemplating things to come. I felt like a small child waiting up on Christmas Eve for Santa Claus, nervously excited, aware that I should be sleeping but completely unable to relax enough for that to happen. After some hours I started to hear movement and every time I thought I heard footsteps on the stairs to my room my body went tense in anticipation of that knock, the knock of destiny! Finally it came and I was up and dressed in world record time, ready and waiting complete with harness, head torch, ice axe and a mug of sweet tea.
There would only be four of us on the mountain that night; Swedish and I with our guides. We stepped outside at 11:40pm and began our ascent under a sky of pure black spare the luminescent moon hanging above us.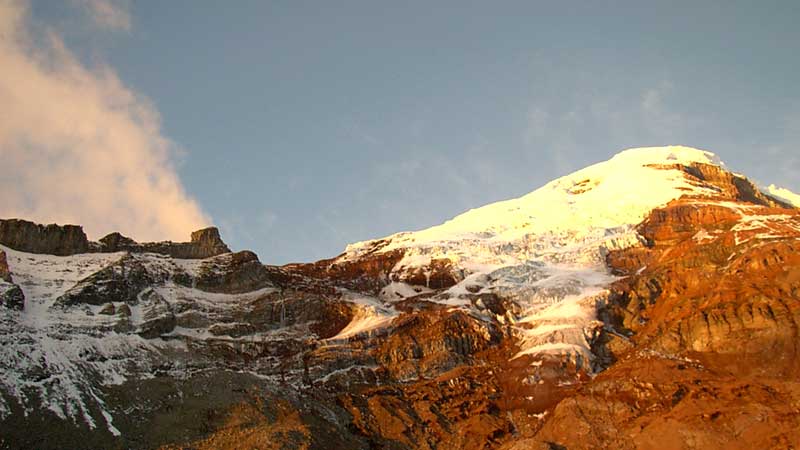 The first section of the climb was a lead up to a tongue of ice that would take us to the first ridge at 5400m. After 15 minutes it was obvious that I had the better guide and I no longer kicked myself for spending $200 on him. We donned our crampons when we reached the ice and carried on upwards under the moon's careful watch, and when we reached the ridge I felt fantastic: I still had my breath, we were way ahead of the Swedish team, and we'd climbed one third of the height in about an hour. I was told that the summit would take us 6 to 8 hours so needless to say I was full of confidence and so we pushed on along the ridge and began the long ascent up to the top of the world.
The climb to the ridge had been pretty steep with a few short sections requiring some rock climbing, but this part was simply a long slog up varying gradients on snow that was intermittently deep and compact or brittle ice that required use of ropes and axes. I followed my guides pace but quickly found myself needing to stop and catch my breath or simply rest.
After what felt like an eternity of walking like this I asked my guide the altitude; I was seriously tired, moving my legs had turned from an automatic operation into a focused battle of will and breathing even more so. I figured we must be close to the 6000m point so you can imagine my dismay when Raul told me we were only at 5500m. That was a real blow to my gut and it haunted me for the next few hours as we climbed. I simply couldn't believe it, how could have only climbed 100m from the ridge, and how on earth was I supposed to climb a further 800m when I was already so tired?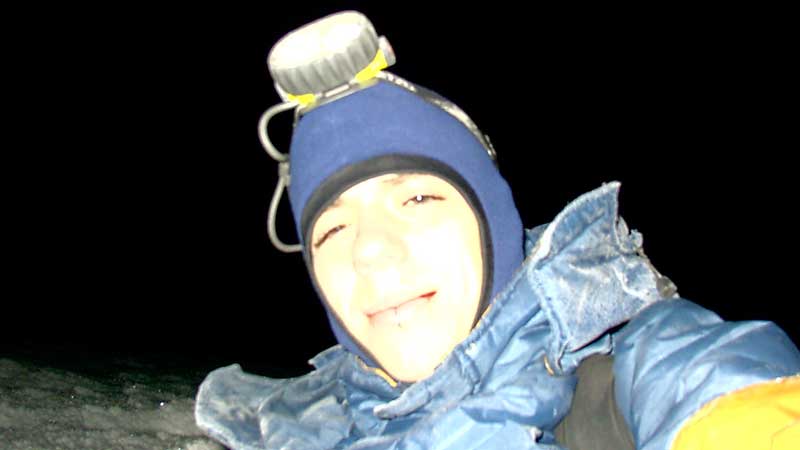 To be completely honest at this point I was just seeing how far I could get, I thought it would be impossible, and actually dangerous for me to reach the summit. And so we plodded on with me stopping every 50m for breath and Raul waiting patiently for 2 or 3 seconds before tugging on the rope. At around 5600m he warned me about altitude sickness and that it can be fatal, and he wanted to know how I felt. In truth I felt like shit, my head was light and my stomach queasy and every time he asked me I felt worse but every time I just lied outright and said I was fine, that I was just tired and needed to rest.
I even used the views as an excuse for stops, which was pretty believable because they were stunning. Sitting on a snowy slope above the frozen image of a violent sea frothing around dark islands that was the cloud cover and protruding volcano peaks, and the whole scene lit up with bright moonlight – if I wasn't already wrenching air into my lungs I would have had to catch my breath every time I scanned the horizon.
I had noticed after 5500m that the Swede and his guide were gaining on us and although I didn't feel like I was in competition they served to remind me of my flagging strength. At about 5900m they caught up with us and we sat down together for a rest. It was around 3am and we had 400m to go to the Whymper summit. Originally the plan was to see the sun rise from the furthest point from the center of the Earth on my 21st birthday, that had changed to get to the summit before 8am (that was the cut off point for decent because waiting longer leaves you in danger of rock falls as the sun melts the snow), now it was just get as high as you can without dying! I was convinced that reaching the summit was impossible but perversely that gave me some form of strength, a huge will power to not give up until I was truly beaten.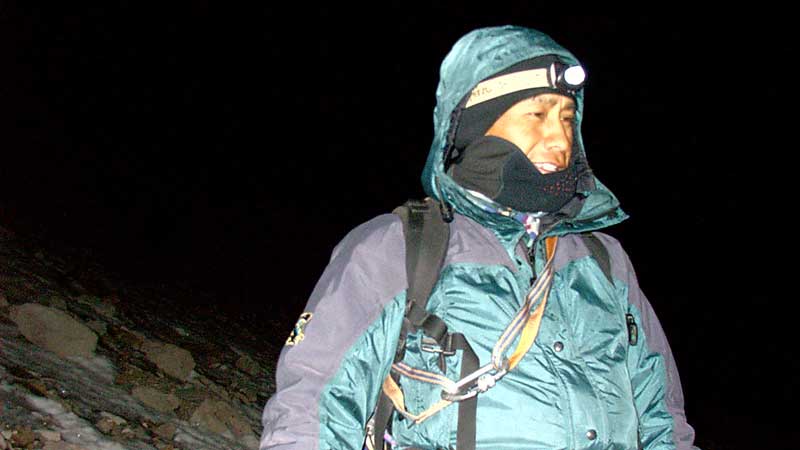 So up we went as a group of four, with me making the pace (and a surprisingly good one at that) by concentrating my entire being on a rhythm I had created: I would beat my ice axe into the snow with as much force as I could and simultaneously take a huge gulp of air, then I would very deliberately move one foot forward and breath out as the crampon dug into the snow, then I would repeat with the other foot! I pummeled that mountain with my ice axe and every thump was a call to arms, a challenge, it had become my respected nemesis and I knew it was a lost battle but it would have to physically beat me before I would admit defeat. I was wearing a fighter's face with beaten brow and ferocious scowl and with every breath I imagined I was sucking life out of the mountain, and in essence that's exactly what I was doing.
We progressed like this, and with my mind focused solely on punishing the lofty ground I was treading on I stopped fixating on my fatigue, or the distance left, or anything else that is depressing and soul destroying to contemplate in those situations. We rested again after some time and the Swede mentioned that we must be near 6000m now – 6100m came the reply from Raul. My spirit soared into the night sky! Only 200m left to the summit! It was 4am and 2 hours till sunrise, 2 hours to climb 200m: all the time in the world. Suddenly the battle was not lost and I rose to follow the Swede to summit with revived optimism and a smiling face.
This was a devil in disguise however, as I had lost my "fight to the death" drive; no longer was every step the last one, but one of hundreds needed to reach the summit. I could no longer keep the rhythm that had worked so well, and the symptoms of altitude sickness that had dissipated for a while came back with full force; I completely lost my sense of balance, wobbling backwards and sideways with every step; I constantly needed to puke and most worrying of all I started seeing double – when I went to grab the rope, for example, there were two ropes, when I finally grasped it and looked at my hand, there were two of them. I was desperately tired, I could barely breath let alone control my breathing, I needed to stop every 10 steps, but now I had really made up my mind to at least get to the second summit.
I was a little delirious and at one point I thought we'd reached the summit and collapsed into the snow. As I lay there I stared at the sky, completely clear with not a cloud in sight and more stars than I had ever imagined possible. Raul told me to get up and get to the summit, and I only did so because I wanted to be closer to the sky, closer to those stars. After less than 5 minutes we were at the second summit and I had reached what had become my personal goal of the moment. I cried a couple of tears of joy and relief and looked up expectantly only to see a sky that was completely overcast. Was the previous sky real or did I imagine it, a self-induced mirage that would get me to the summit. I didn't have too much time to think because Raul was tugging the rope again and telling me to shift it to the Whymper summit.
For someone who had been so concerned with my health Raul was suddenly taking very little interest in it. I thank him dearly for this because he dragged me like a stubborn mule down the second summit and then back up to the Whymper summit, 6310 above sea level, just as the sun was coming up. It was 6am exactly and my exhaustion vanished for a few fleeting moments as the first rays of sunlight warmed my freezing skin.
There is no other feeling of accomplishment that can beat that of a physical and mental battle waged against nature, but that is really fought against yourself. Forget that it was my birthday, forget that I was now standing on the furthest point from the center of the Earth, those points were arbitrary, all that mattered was that I had done it, what it was didn't matter except that it was the hardest battle I'd ever fought, and I had won.
As the sun rose what had been black and grey suddenly shone bright blue and white, the snow field we were standing on merged into fluffy white sky and it was almost as if we were riding on our very own cloud. The sky was clear again and I couldn't fathom out which previous sky – if either – had been real, or false for that matter.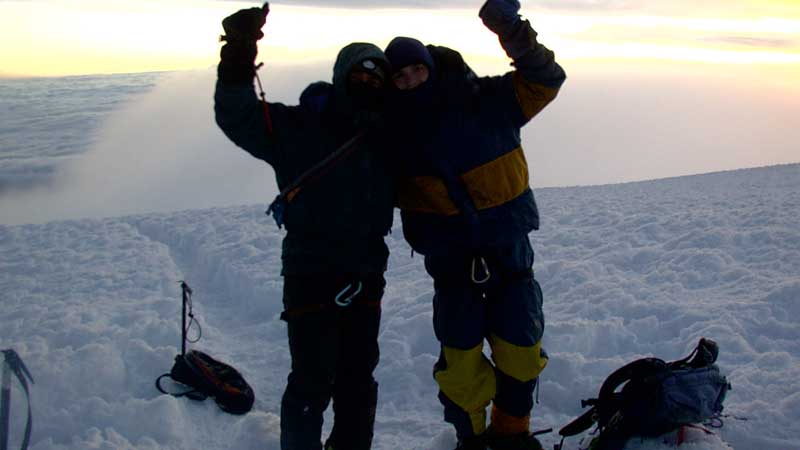 I had no idea how I had managed to get there, how I was still standing, how I was smiling, but then a realisation hit me, something I had simply not allowed myself to worry about until I really needed to – how was I going to get off this thing?
We took a different route down that consisted of a 1000m descent of steep downhill skiing with crampons instead of skies, and then 300m of ice climbing and downhill skiing on loose rocks instead of snow. The climb up took 6 hours 20 minutes, the descent took over 4 hours. At one point, after abseiling down a cliff face, Raul picked up an ice axe and threw it down at me, getting himself stuck at the top in the process (OK, it fell, but it damn near decapitated me). I slept at the bottom of the cliff while he chipped out ice to make steps, showering me with razor sharp missiles that I was too tired to pay heed to. I had adopted the same pace going down as I had going up and once the refuge was in sight and we had reached a safe path to it, Raul simply abandoned me in search of breakfast.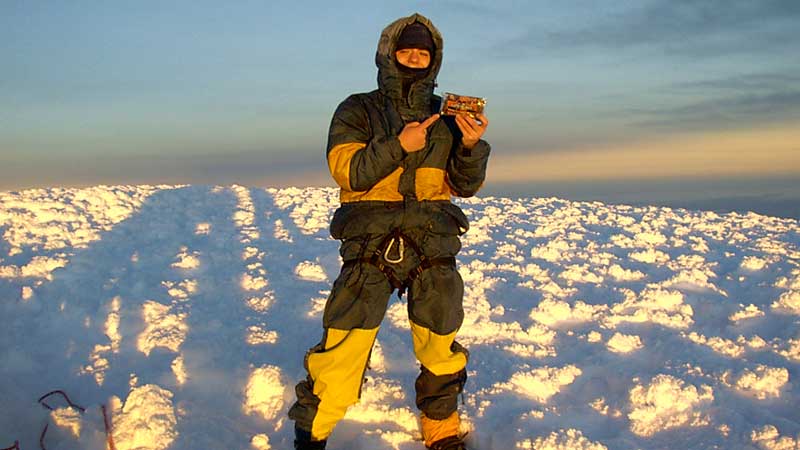 I took the last opportunity to be alone with the mountain that was now slowly being consumed by clouds, sitting next to a small stream, deep in thought of those great, intangible things that can never be grasped, never reasoned. Things that simply cannot be expressed with words.