Aviemore to Linn of Dee - a fantastic 24 hour microadventure in the Cairngorms with wild camping, wild swimming and plenty of wildlife too!
I'm just in time for Al Humphrey's Summer Solstice Microadventure Challenge, so to honour his sterling efforts to inspire people to get outdoors and sample the adventure on our doorsteps, I thought I better post something. Plus, this blog has been conspicuously adventure-free recently, so two birds with one stone!
Aviemore to Linn of Dee
The idea for this little adventure was simple: go for a walk in the Cairngorms national park, climbing some mountains and sleeping outside on the way. Lucky for me I now live in Edinburgh so some of the best mountain scenery in the country is now just a couple of hours away. Also lucky for me, my parents are one part retired and one part on holiday, and were driving around on day trips anyway: transport sorted!
The long days of the summer are even longer north of the border, and so we planned to be jettisoned from the car at the Aviemore ski centre at around 5pm, summit CairnGorm itself and then Ben MacDui (the second highest peak in the UK), before heading down to wild camp at Loch Etchchan. Then we'd work our way down the old drover route, "the Larig Ghru", to the Linn of Dee car park.
The weather forecast was grim but a break in the rain and fog was expected. It didn't arrive in time for us and so our experience of Cairngorm was basically the same as being in a very cold and windy steam room, so once we got to the summit and took in the amazing views that the 20m visibility allowed, we abandoned any ideas of climbing Ben MacDui that evening and began our alternative route, beginning with a quick descent below the cloud line so we could actually appreciate the scenery a bit.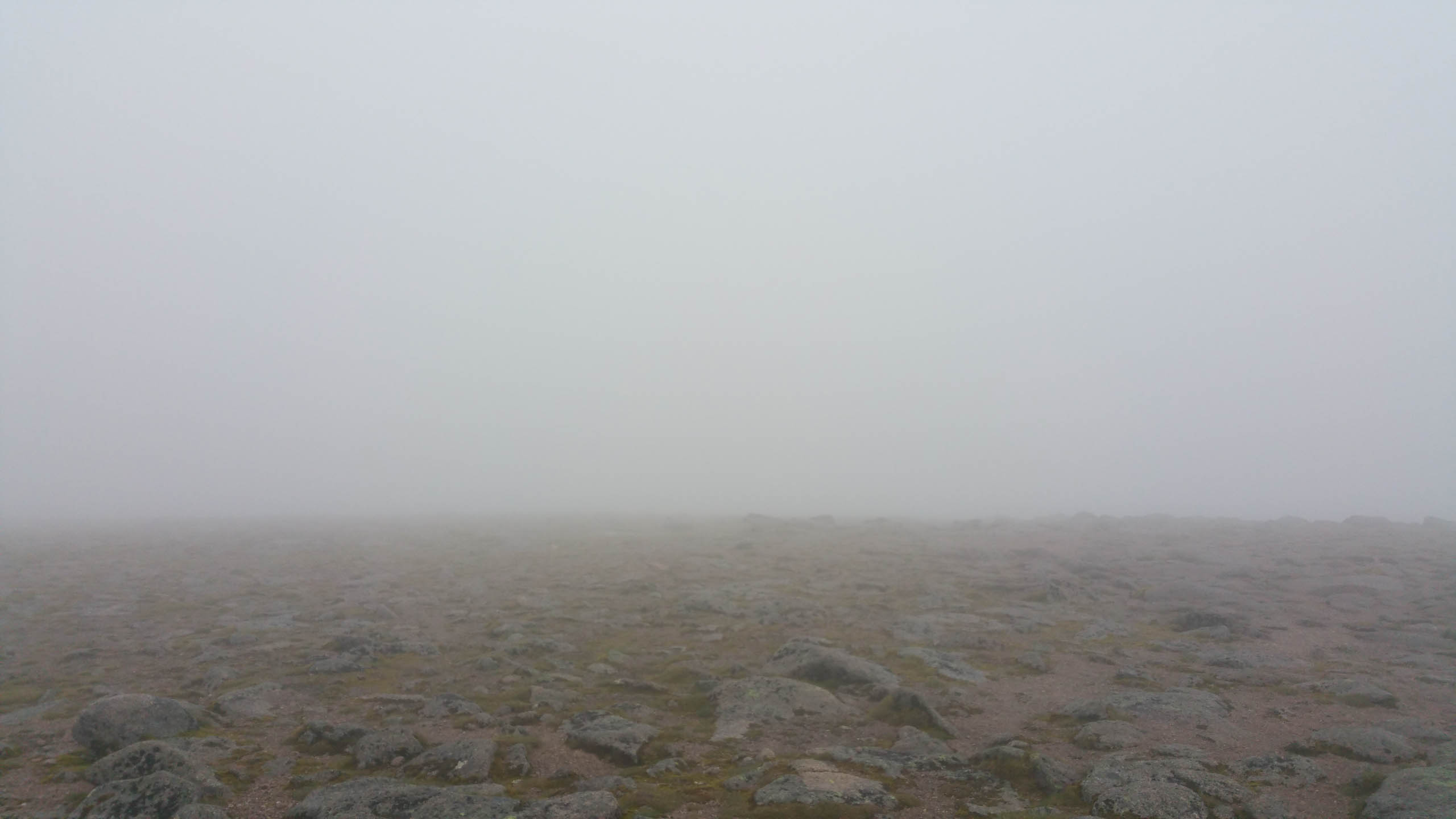 Still aiming for Loch Etchachan we veered south east and followed a fantastic cascading stream down about 400m of steep, wet, rocky mountain trail to Loch Avon (pronounced Loch Aarn, for some reason). Loch Avon is huge and beautiful, surrounded at its south west end by a semi-circle of 200m sheer cliffs pocketed with caves and draped with tempting gullies. By the time we reached it the break in the weather had come. Fluffy clouds raced across patches of blue sky and the rocks began to glow that rare pink that only seems to exist in the mountains.
We picked our way around the rocky shore of the lake, where the water was shallow and crystal clear. Two guys were pitching their tent on a small stretch of orangey sand, and as we rounded the loch and passed above them, I had to envy their view. It was magnificent. They'd picked a great spot.
It was getting late and we were tired and had another climb out of this valley, but it was worth it. We had a spectacular light show and found a perfect pitch next to Loch Etchchan.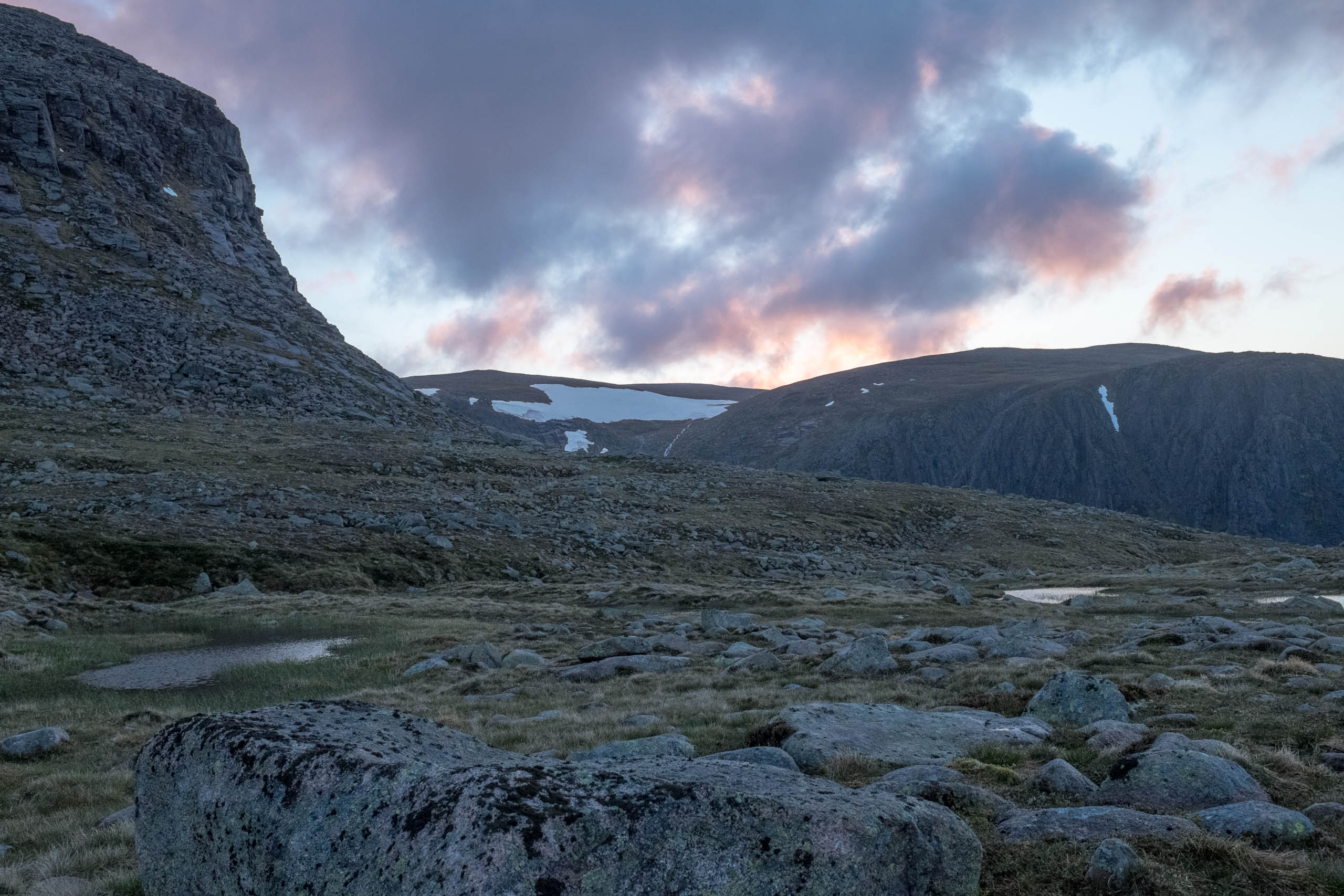 And even at 11pm there was more than enough light to pitch the tent without a head torch. Once pitched we stuffed our faces with ginger nuts while we brewed a herbal tea and then cooked some boil in the bags for dinner, before falling into a deep and well-earned slumber, only mildly aware of the raging winds that picked up during the night.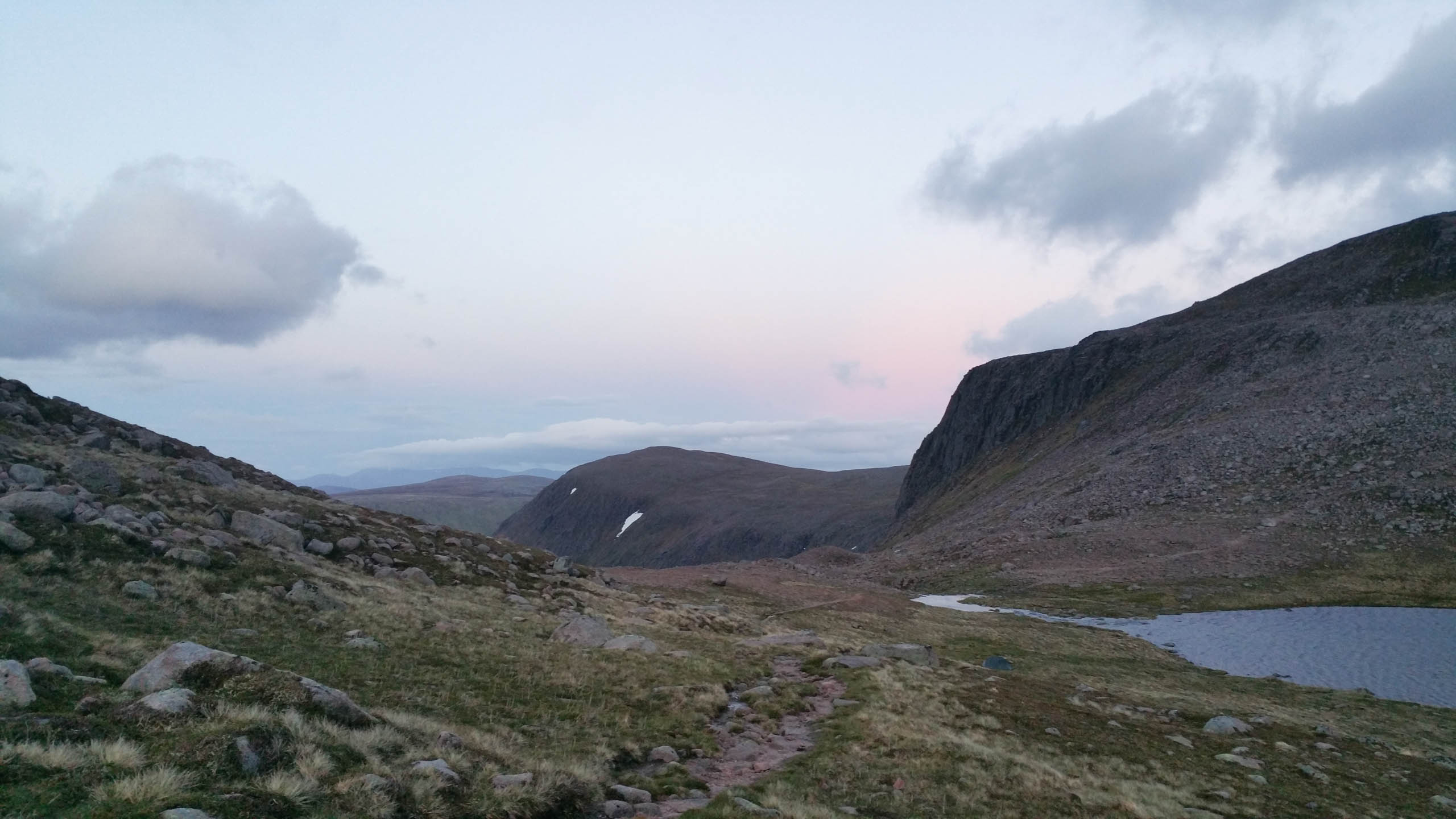 We had one solitary neighbour by the lake that night. He was up before us to bag a hill before breakfast, and must have had quite an eyeful on his way back as we took turns to wash naked in the loch, screaming and giggling and jumping about as the icy water zapped the sleep from our minds and bodies. There is seriously nothing as refreshing or as idiotically fun as wild swimming in mountain lakes and rivers.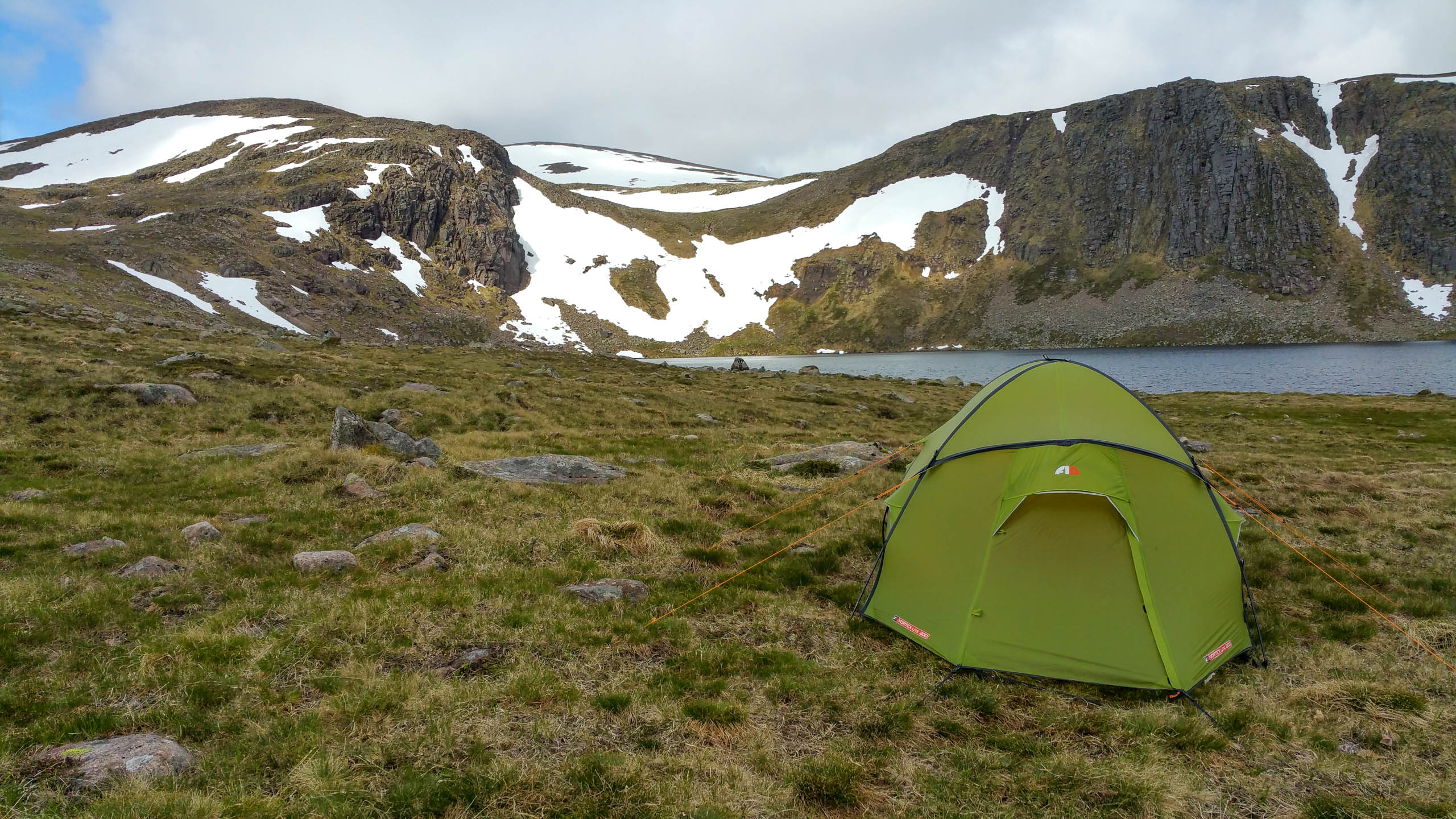 For the rest of the day we slowly meandered down the famous Larig Ghru – an old drovers road from Braemar to Aviemore – following the Coire Etchachan Burn and then the Lee Burn (a burn is a stream in the Scottish mountain lingo), with the landscape becoming increasingly civilised and the sun increasingly hot as the day went on.
Just below the Corrie Etchacan is a fantastic little bothy called the Hutchinson Memorial Hut. It's maintained by the Mountain Bothy Association. We met two blokes who had been chased down from the corrie by the bad weather before we'd arrived the previous night. They said the hut was so well insulated it was 25 degrees inside right though the night.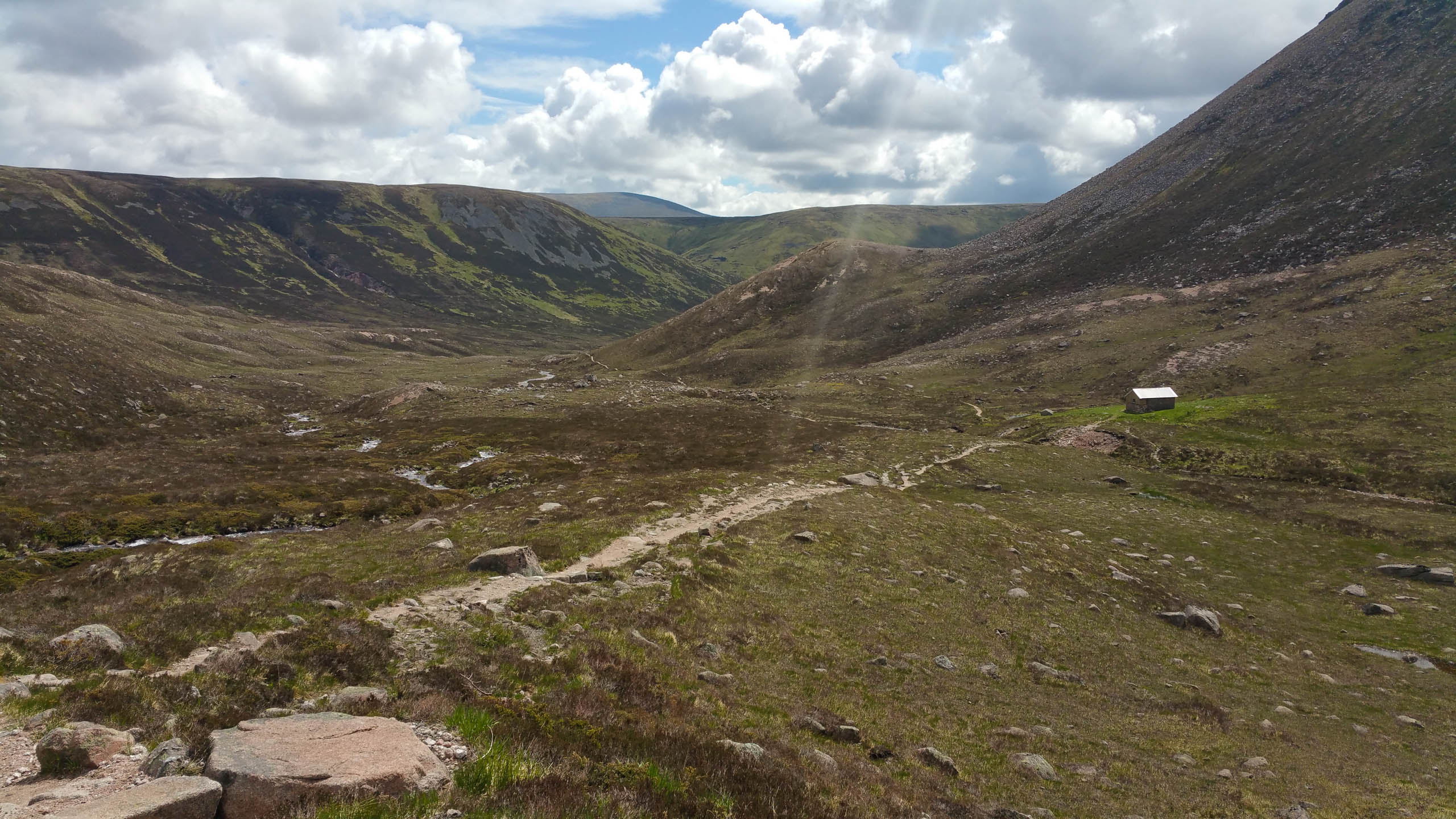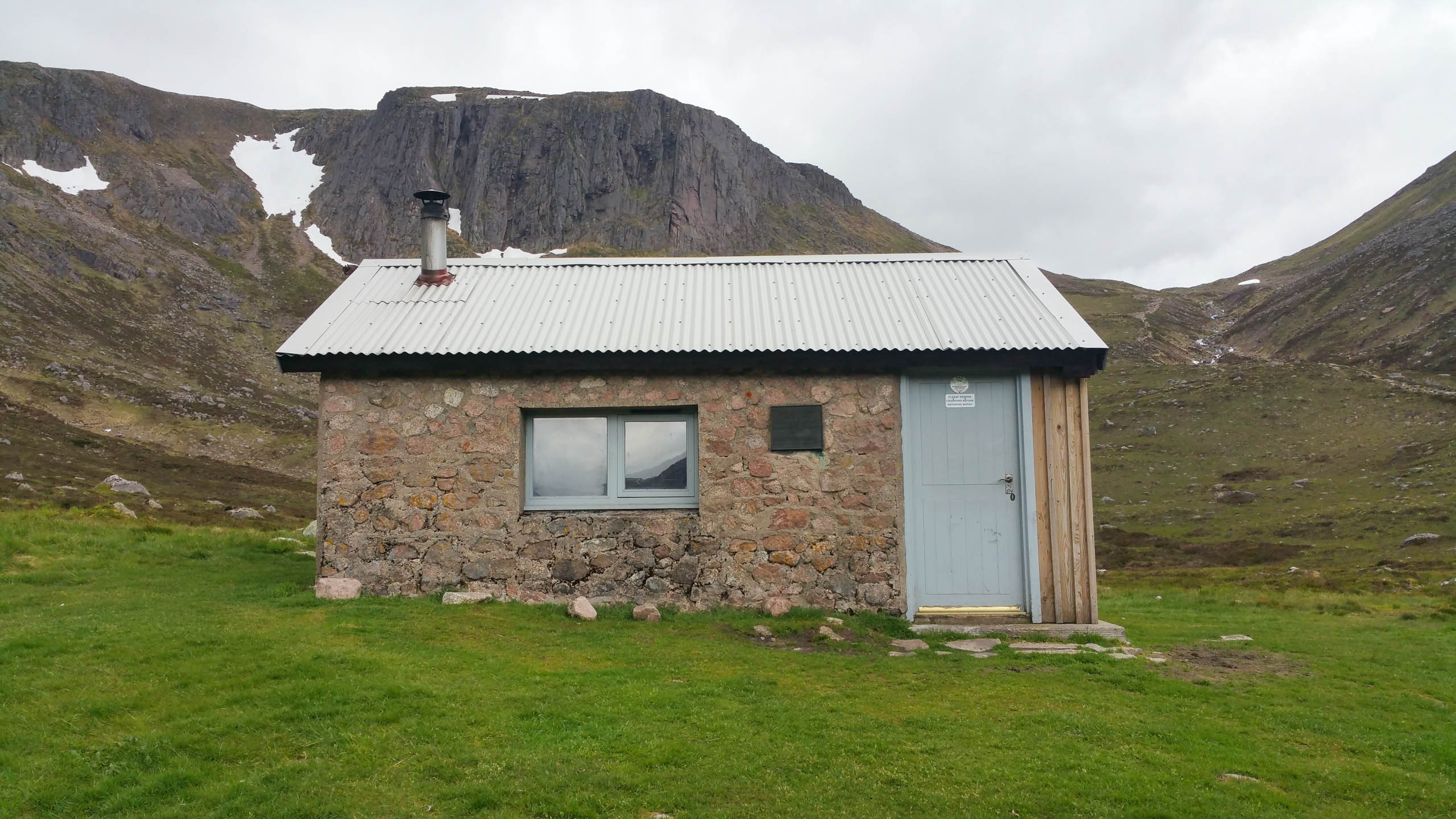 By the time we reached Derry Lodge, of the Mar estate, there were quite a few people about on the trails and it became obvious to us how popular an entry point to the Cairngorms this valley was. Our pick up time was 5pm so we didn't have too much time to linger, but we did manage another quick dip in the Derry Burn, just before arriving in the Linn of Dee car park in time to be collected.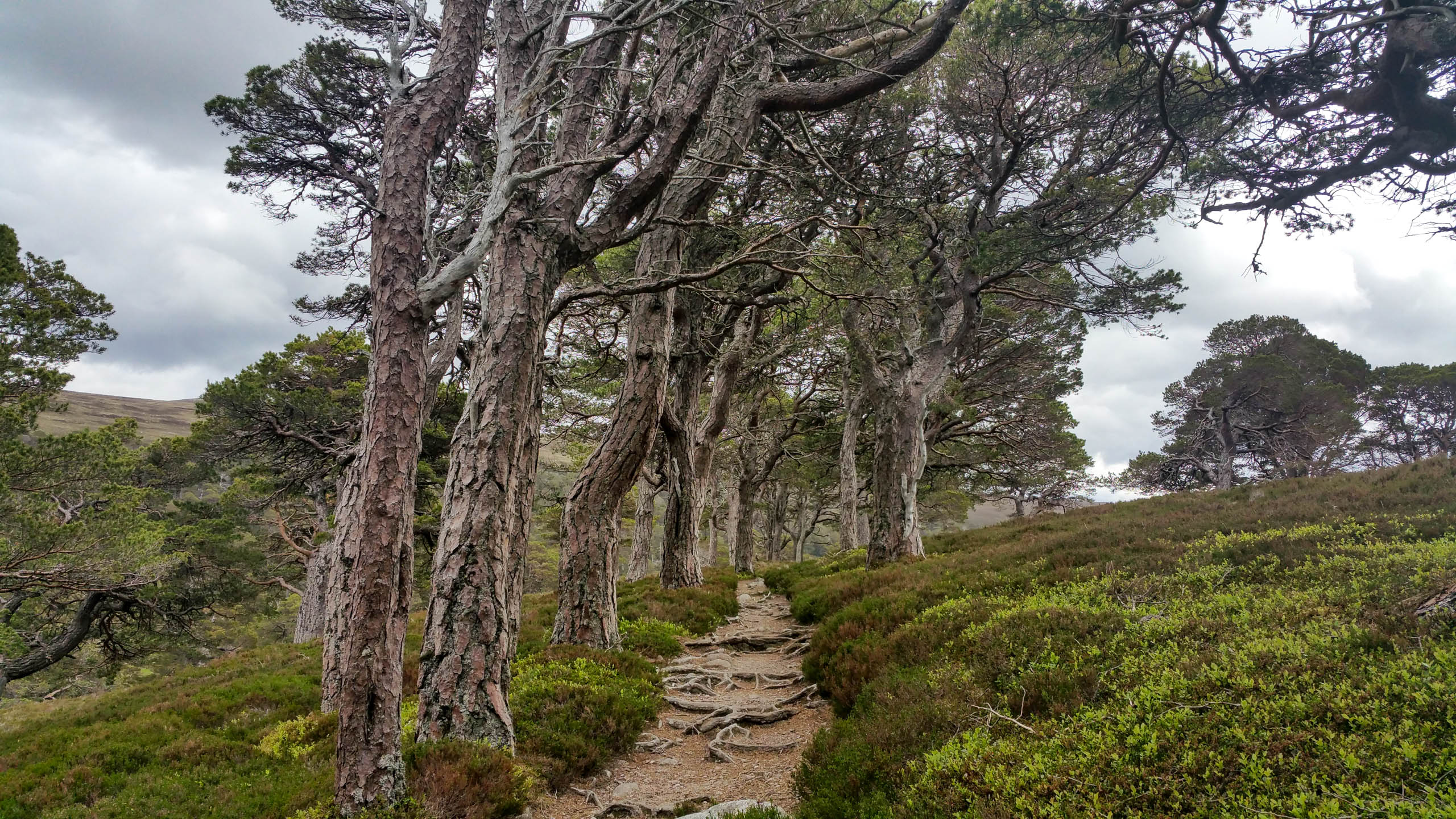 It was a fantastic 24 hours and reminded me once again just how much you can squeeze in to a day or a weekend, and that it is always worth it. The weather was so miserable we might have given up on the idea, but we didn't and we were rewarded. And even if it had stayed terrible, we'd have have a memorable experience far more rich and rewarding than pretty much anything we could have done indoors or in the city.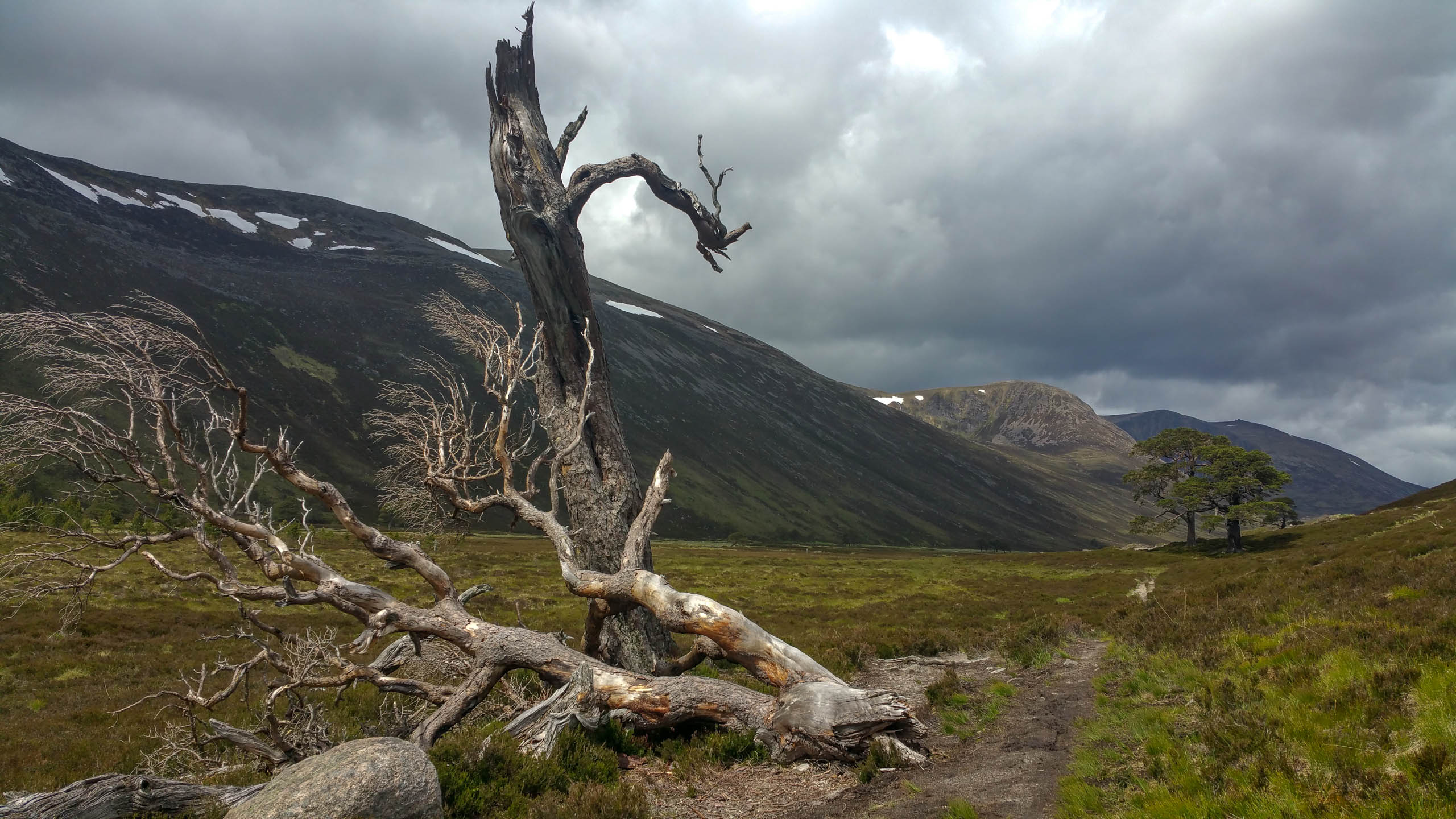 Lastly, I learned a bit about what the National Trust are doing in this area since they took over the Mar Estate: primarily encouraging natural regeneration of the ancient Calledonian Pine forests that once covered much of Scotland, but have been reduced to just 1% of their original size (one percent!). The main tactic is managing the deer population, and judging by the number of young Scots pine saplings all over the place I'd say it was working.
Good work, National Trust Scotland. I think you just gained a new member. And thanks to Al Humphreys for getting more people into the outdoors. Well done mate.
Some Extra Info
How did we decide on this route?
Aviemore seemed like the best jumping off point so Cairn Gorm was an obvious climb. Then a quick google search for ideas and a look at the online OS Maps website threw up a Ben MacDui circular. We fancied an A-B route and quite a few forums mentioned Loch Etchachan as a great wild camping spot, and the valley walk down to the car park at the Linn of Dee was just the right distance.
Wildlife Sightings
Female roe deer
Ptarmigan (pair at Loch Etchachan)
Red Grouse (pair plus chicks)
Mountain hare
Red squirrel
Plus we saw a bunch of birds of prey while driving from Linn of Dee to Braemar including owls, buzzards and an eagle that we couldn't quite ID.
The Scottish Outdoor Code
If you don't know how to behave in the outdoors, go read this. But basically:
don't be an arse
take responsibility for your own safety and those in your care
treat the environment with the same level of respect you give to your mum
leave no trace – take all your litter home, don't leave obvious marks from your camping, don't take or disturb anything you find
don't be an arse
Be Safe
Mountains can be dangerous if you're not prepared. Stay within your comfort zone, learn how to read a map and use a compass, go with someone more experienced until you feel safe and competent on your own.