#30NightsWild Day 5 – a spot of 'wild urban camping' on Arthur's Seat, overlooking Holyrood Palace, the Scottish Parliament, and the majestic Edinburgh Castle.
---
#30NightsWild is a little project to wild camp and wild swim every day in June, telling a little story about each night, and making a little film along the way.
---
EDINBURGH IS AWESOME
I am not a city person. Left to my own devices I'd probably be living in a hut in the wilds somewhere, or vagabonding around in a van, or sailing around the world in a little yacht. Life, however, dictates that right now, as I choose to prioritise my work and relationships, a city dweller I must be. And so – Edinburgh.
If you must live in a city there are lots of reasons to choose Edinburgh. I'm half Scottish and spent a lot of my childhood in and around Edinburgh, so I've always felt at home here. Plus it's small enough that you can walk across it, has enough beautiful architecture to distract you from the traffic, and has such a high density of arts and culture that it feels as though you can absorb it through some process of metaphysical osmosis simply by walking around.
On top of all that, it has the best access to nature of any city I've ever been to. Not only are the highlands just a few hours drive away, but the Pentlands are less than half an hour away from most of the city, there are numerous beach fronts even closer still. To top it off there is Holyrood Park, literally slap bang in the middle of the city: a huge, hilly royal park that is part of the same extinct volcano on which Edinburgh Castle is built, with big exposed crags, small lochs, and Arthur's Seat at it's summit.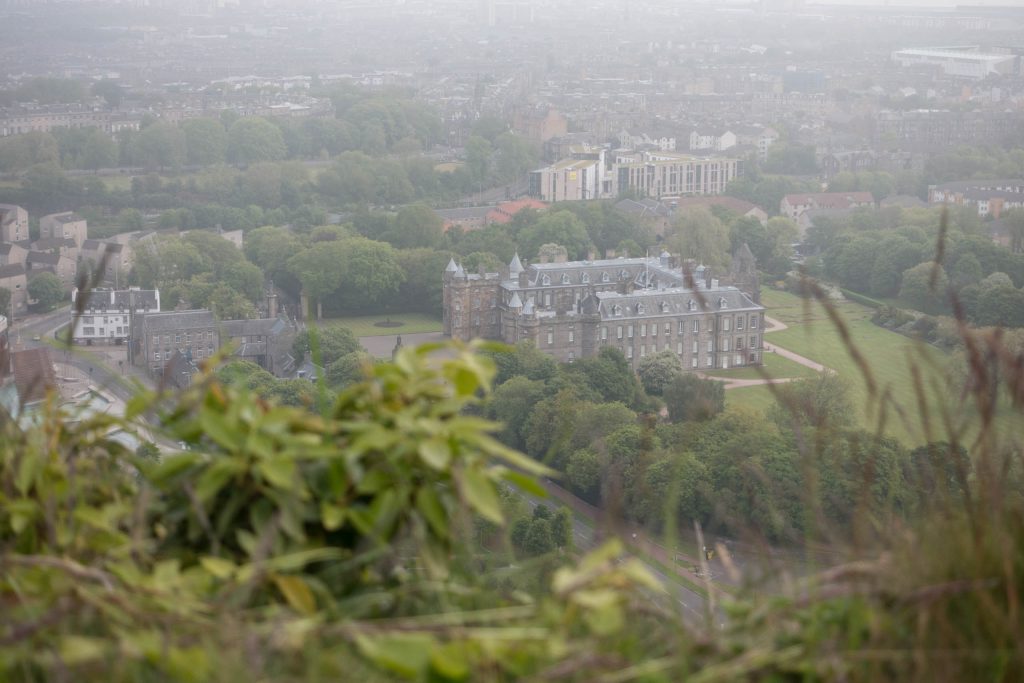 I took the bus from outside my flat just after midnight and hopped off next to the Holyrood Palace. A quick hike and I was up on the Salisbury Crags overlooking Edinburgh. In a few moments I was in my bivvy, burying my face down into my sleeping bag to shelter from the bracing wind. It wasn't a cold night, but the wind was icy. I slept a wakeful sleep, haunted by that wind all night.
As often happens when you wild camp in urban areas, I was woken by a curious dog sniffing around and trying to work out what I was. I love dogs and can barely think of a better way to wake up – outside, the fresh air on your face and sky above you, surrounded by green open space, with a friendly dog eager to figure out if you're something that it might be able to lick good morning.
Edinburgh was grey and misty and grand. A look she wears better than most cities. The dog owner was as friendly – and probably as curious – as the dog, and asked how my night had been. I wondered what he made of me: a well-equipped tramp, perhaps. Or, more likely given the time of day and what seemed to be a routine morning walk with his dog Darwin, he was a kindred spirit who had no need to wonder what I was doing there, because it was a perfectly normal thing to be doing.
I eyed up Edinburgh castle, perched above the city on its own rocky outcrop, shrouded in mist. What must this place have been like a few hundred years ago? How would a peasant have seen this same view, waking up in the same spot as me after a night watching the sunset and drinking whatever grog they used to drink back then? What thoughts or feelings would that castle have inspired in him? Awe? Dread? Jealousy?
I packed my thoughts and my bag and wandered back down to the city. Early morning runners were out, the traffic was beginning to move, and the coffee shops would soon be open. I debated whether a bus ticket or a coffee would be a better use of my money. I checked my pocket for change, and grinned when I saw I had just enough for both, and then grinned wider at the thought of having only that, and what I had on my back, and nothing else at all.
---
Enjoyed this? Subscribe to the newsletter…
Get cool stuff in your inbox every once in a while, and join me in growing a community of like-minded people seeking alternative ways to think, live and thrive. Oh, and no spam, ever. Pinky swear.